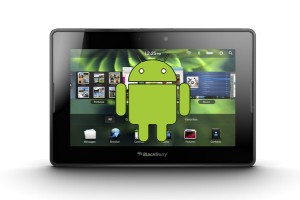 Looking for the DDPB Installer to install Andorid Apps from Crackberry ?  Your at the wrong link!  You are linking for this one:
http://www.filearchivehaven.com/2011/10/20/blackberry-android-and-thank-you-ddpb-installer/
Wanting Android apps on your PlayBook?  Or Beta apps like the AngryBirds?  This only works on old non 2.0 Beta OS users running 1.6.

Below are some handy steps (and quick download links) for installing Android on your PlayBook.  Its pretty quick and takes about 10 minutes if nothing goes wrong.  My instructions are a little bit different than everyone else, but thats because I ran into three problems during the setup.  By following these steps you should be a-0-k with minimal effort.  In addition, as a disclaimer, if something goes wrong… well your stuck googling it to find an answer because this is not RIM recommended or approved.
Before all else – Backup your BBPB.
Installation:
Java Development Kit
Step 1 – Download and install the appropriate JDK below
> Download: 32bit
> Download: 64bit
Side-Loader Application, this will let you add APK's and BAR files
Step 2 – Install the DDPB Installer 1.0.0 (no dos commands today folks)
> Download: DDPB Installer.msi
Step 3 – Update to the later release by using the DDPB Installer 1.0.7
> Download: DDPB Installer1.0.7.msi
Note:  Some people can install right to the 1.0.7 version.  However, I've seen at least one system not work on that release.
Also Note:  When you run the app, it will warn twice that files are missing – THATS ok press continue.  If it says Java missing, file will exit however – that means the JDK isn't being detected and the file wont reach the PlayBook.
Installing the Android Emulator
Step 4 – Download the following file and use the DDPB Installer to push it to your device
> Download: sys.android.bar
What can I install now?
Any APK's you send to your device will appear only inside the Android Emulator.  So, you need to make sure it is installed first.  Also, if you do not live in North America, you cannot use the BlackBerry App Store.  In that case you will need to find BAR files to install such as some of the ones I put below.
Note:  Some of these are demo apps and not finished yet.
Test APK
> Download: com.netflix.mediaclient.1.3.apk
Note:  This may or may not install.  Try other APK's, I found a bunch that worked this one didn't for me.
Test BAR's
> Download: AngryBirds.bar
> Download: AntairSudoku.bar
> Download: Compass.bar
> Download: FarmDefense.bar
> Download: GoogleMaps.bar
> Download: IslandMiniGolf.bar
Useful links:
DDPB Developer Link:  http://www.berryreview.com/forums/topic/playbook-apps-installer-method
Another link on installing:  http://www.berryreview.com/2011/06/13/blackberry-playbook-sideloading-tutorial-and-resources/?replytocom=92364
More BAR files:  http://www.mediafire.com/?qv7odxcxt28s7
(52448)