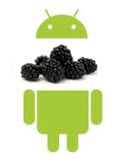 In my previous post on the subject, I covered how to install Android Player on your BlackBerry!  Well, now you don't have to!
Step 1 – Backup your PlayBook.  Because if something goes wrong, you will be happy you did!
Java Development Kit
Java Development Kit
Step 2 – Download and install the appropriate JDK below
Note:  You must use the right version for your system or the installer will fail to work.
Side-Loader Application, this will let you add APK's and BAR files
Step 3 – Install DDPB Installer 1.0.7
> Download: DDPB Installer1.0.7.msi (Link fixed)
Step 4 – On your PlayBook, go into options – Security – Development Mode.  Turn Development mode on
Step 5 – Plug in your BlackBerry PlayBook using your USB cable to the PC.
Step 6 – Start installing BAR files using DDPB Installer!
For more information on the DDPB Installer visit this link.
Need some BAR files that were former Android packages?  Check this link or this link (which has a ton).
-ls
(115283)