Hi All,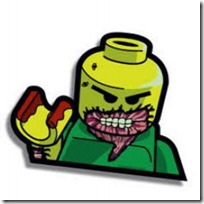 Recently I've been very fortunate to have met many developers from around the globe.  And I've been invited to be part of some great applications, games and software under development.  Well, in honour of CrackBerry's App Roundup, I wanted to do up a small post on great games and applications specifically created by CrackBerry Developers!
All of these developers are open, responsive and active on CrackBerry.  Which means, they will help make BlackBerry 10 a better platform while listening to customers.
---
Game/App:  Tappy Bird, get it here. (99c)
Platform:  BlackBerry
Who made it:  Alejandro Diaz
What is it:  This is another great little Flappy Bird spin-off.  This one is much more true to the original than my own.  And has that same "I want to throw my phone against the wall" difficulty.  Diaz is an amazing developer that often helps others and he just happens to make some addictive little games.
Avoid all the obstacles and keep the little bird alive!

Please contact me before leaving a bad review, I'll be sure to listen to all your bug reports/feature request/etc.
---

Game/App:  Fly Fly Up!, get it here. (99c)
Platform:  BlackBerry
Who made it:  Tom
What is it:  This is a unique concept, and I had a lot of fun beta testing this little game.  You basically have to press a certain sequence to survive!  And every time you touch the screen, the game gets a little bit faster.  It is harder than it sounds and supports high scores.  Tom put a lot of serious effort into the development of this game, and I applaud him for bringing a unique game forward.
Elliot is an ant.  An ant with a dream!
He wants to reach the moon and the stars because earth bores him so much!
Can you help him to achieve his dream ?
The goal is to fly up as high as you can reach !
---
Game/App:  Painter, get it here. (free)
Platform:  BlackBerry
Who made it:  Joe QXS
What is it:  What is better than free?  High quality.  This little painting app keeps getting better.  It lets you select different stroke sizes, colours, and even adds itself as an invoke item for photos.  This is a great application for playing around, and just having a good time.
– Draw on Images, Camera Photos, or a blank canvas.
– Use any colour you can think of with the hex compatible colour picker.
– Get some cool layered effects using the Opacity setting.
– Choose your brush size.
– *Save Images to view later.
– *Share your 'Glorious Painting' with your favorite .png compatible app.
---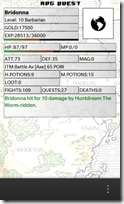 Game/App:  RPG Quest, get it here. (free)
Platform:  BlackBerry
Who made it:  Yours truly
What is it:  To contribute to the app round up, I wanted to submit a free app that's more fun than it looks.  RPG Quest is a progress quest style of concept, you press go, and it plays an RPG for you.  It's a cute, fun freebie!  And who knows, I might just upgrade it to something amazing one day.
RPG Quest is a simple game designed with Progress Quest in mind! This is called a 0 player game.

The second you install the game and launch it, a character is randomly rolled and starts playing for you! The 0 player game family was created to make light of how simple modern day RPG's have become
---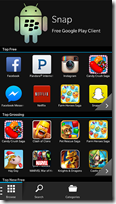 Game/App:  Snap, sideload it here. (free)
Platform:  BlackBerry
Who made it:  jamespaulmuir
What is it:  Imagine Google Play apps could be installed on your BlackBerry.  At the push of a button.  With no fuss.  Now stop imagining.  Install Snap and do it.  Beautiful interface, well designed and works flawlessly.
Hey Guys!
You may know me from Flip Shush.
I built a native BlackBerry 10 app (Cascades) that allows you to browse, search, view and download apps from Google Play.
Enjoy!
Latest Version: 2.0.0.2
---
Game/App:  SideSwype, sideload it here. (free, but credit based)
Platform:  BlackBerry
Who made it:  MyBBOTA
What is it:  What is a good way to install apps on your device, from your device?  Like lets say, SNAP has an update.  How can you install it easily?  Well that is what SideSwype is here to do.  Now, before you get concerned about the idea of buying credits – I've looked into it.  The costs go towards the server fees and bandwidth associated with using SideSwype.
SideSwype is a Native BlackBerry 10 application, which when coupled with our included VPN services, allows you to effortlessly install BlackBerry BAR files or Android APK files to your device without the need for a computer. This installing of applications or games outside of BlackBerry World is known as "sideloading" and until now tied you to your computer. Not any more.
---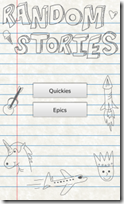 Game/App:  Random Stories, get it here. (free)
Platform:  BlackBerry
Who made it:  Brian Scheirer
What is it:  This is just a fun little app.  I was lucky enough to be part of the beta testing.  Essentially it is this, you enter a few verbs, nouns and items such as that.  And you press GO to generate a cute little story.  Which you can then share out!  Most interestingly, you can even submit your own story ideas from the app itself.  Nifty, free, and fun.
Random Stories allows you to create ad lib type stories.  There are infinite possibilities of stories you can create.  Two lengths of stories: Quickies and Epics.  Think of your best nouns, adjectives, adverbs, etc and watch the story unfold!

Once you finish share your stories with your friends!
That's it for today!  But there are many more apps out there
  If you know of any developers on CrackBerry creating great apps, feel free to drop a comment and I'll add it in the next release.
~ed.
(10688)