Its been a busy few days 🙂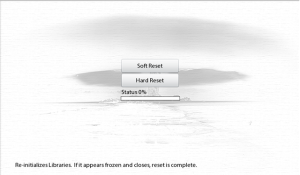 Overload for the BlackBerry PlayBook:  http://appworld.blackberry.com/webstore/content/reviews/119676
This aplication was the first of its kind.  All other applications are clones.

This quick little app is great for the moments you really need it.  It was requested by F2 on the user forums.

This application causes many system libraries, to re-init without rebooting your BlackBerry® PlayBook™.  This is great for when some applications that are library dependant simply wont load.  Or your Browser just suddenly won't launch anymore. 

When this application completes - re-launch your intended application and it should re-initialize the under layer of your BlackBerry® PlayBook™.

The next release will have both a soft and hard reset.  This version contains a hard reset.

~KermEd.
 Secure Browser Trial:  http://appworld.blackberry.com/webstore/content/127337/?lang=en
Secure Browser - Trial

Thank you for previewing this browser.  This is a TRIAL release only, which means it will present a pop-up periodically to remind you that this is for trial purposes.  It is not intended to be used long-term but to allow you to verify if Secure Browser meets your browsing needs..

What is it:  
-----------
Secure Browser is a simplified web-browser that protects your information as the ultimate privacy browser.  This browser does not allow access to browser history, it has privacy modes, and password protects your favorites!  It is the perfect browser for protecting your information and allowing you to change your browser type.  This browser is based on my free Desktop Browser.

** This browser is not intended to replace the stock BlackBerry® PlayBook™ browser, but accompanies it by providing a secure alternative for protecting your information. ** 

How does the Authentication Work?
-----------
Your password is a separate encrypted password from your normal BlackBerry® PlayBook™ password.  You need to authenticate once everytime the browser is launched.  And authentication will remain for the remainder of the user session.  You will not need to re-authenticate until you close and re-open the browser.

Features
-----------------
* Quick searches
* Quick jump points
* Multi-tabs (max of 9)
* Theme support (8 themes)  
* User Agents (11 to select)
* Can 'Google' from the URL bar
* Password protect your favorites
* Can load local files (in release 1.0.8)
* Password protected notes section (for password tracking)
* Enable/Disable Javascript, Reflow, other options
* Prevents access to your history
* Works through Tether, Bridge, Wifi
* Privacy Modes enabled
* Web Inspector
* GoGames / GoApps
* Find on Page
* + Many more!
Full Description