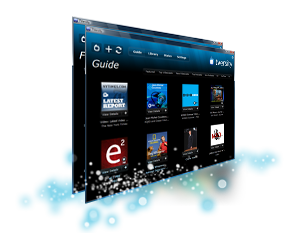 Streaming Video to your PlayBook – iPad below. (Anyone have Android suggestions?)

For those of you who stream video to your Xbox 360 via Tversity, this should be an easy change. You have several different options, most of them are browser based.
ORB is one of the best.  I  haven't had a chance to look at it too carefully, but it has massive support for all kinds of tablets and devices.  With ORB you can literally go with a plug-and-play solution.
TVERSITY is what I use, because I use it for my Xbox 360.
Simplified instructions
Install a media server such as the two above.
Specify your media directories for music, videos and photos.
Let the server update.
Note:  You may need to open ports on your firewall if you don't have any type of dynamic port forwarding service on it.
Voila!
Problem:  TVersity doesn't work!
Switch it over to its flash front-end.  For example, this is the normal URL you would visit to access TVersity:
http://(PC_with_Tversity_IP):41925/medialib/browse
Change this to:
http://(PC_with_Tversity_IP):41925/flashlib
Streaming Video to your iPad

ORB is one of the best.  Free.
TVERSITY is ridiculously overpriced.  Really overpriced considering it does the same thing as the Xbox version.
Air Video is what I use.  It costs a couple of bucks and is a turnkey system.  You  do need to install a server on your PC, but its really light weight.
Voila!
Lloyd
(6686)