Below are some instructions for users first getting started with Orb.
Disclaimer:  Connect to TVersity requires a PC and utilizes networking.  This may take some people out of their comfort level for the first time while configuring your systems to use this application.  But the rewards are great.
User level:  Easy
Limitations:  Requires internet access.

Benefits:  Free server software with a simple interface, requires purchase for Hulu etc.  Works on Mac OS X.

Installing Orb
Step 1: Download Orb and install it on your main PC that hosts the videos and audio files you want to share on your device.  You can download Orb Caster here (~80Mbs).
Step 2: Install Orb Caster on your PC once the download completes
Step 3:  When prompted during installation to close all running programs, select no.  You might want to watch videos while someone is using the PC.

Step 4:  During installation it will ask you where your media files are.  In most cases select both options.  On the next screen you can select any custom folders you use like an external drive for your movies.
For those about to ask, you can find your iTunes folder by looking here to make sure it is added in the folder list.

Step 5:  When asked, select No I am not installing any Orb devices (these are hardware items)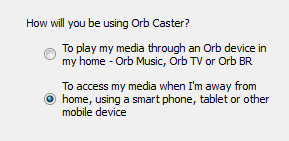 Step 6:  On the next screen, you are setting up Orb for mobile use.
Step 7:  New users will want to setup a new account, existing users can use their existing one.  When setting up an account, make sure to write down your username (email) and password.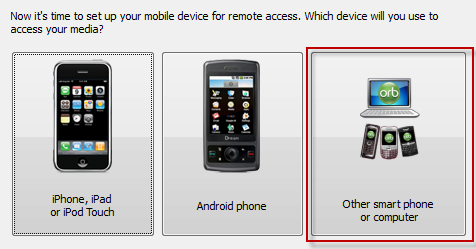 Step 8: When asked, select Other smart phone or computer.  It will explain how you can access Orb from any device, and press OK to finish the first part of the setup.
Configuring your PlayBook
Step 1:  Download Connect to TVersity onto your PlayBook
Alternatively you can use the stock browser to connect using URL http://mycast.orb.com.

Step 2:  Launch the Connect to TVersity app, it should detect that you have not configured the software.  Swipe down from the top of your bezel to launch the configuration screen.
Step 3:  In the drop down for an unused server entry, select Orb – and press Connect.
Setting up Orb

Step 1:  Log into Orb
Step 2:  In the bottom middle select Settings
Step 3:  Change the Streaming Format to Flash, press Save and Exit and make sure the app is working for you!
~ed