Now first, I have to say, you do not need an Antivirus for your BlackBerry 10 phone.
Quite the opposite, your phone couldn't be any safer.
But, some unnamed company has dominated the market by selling a crippled 10 dollar app.
What is a boy to do?
Well, first, there actually is a good reason to have an Antivirus on your phone…
Most people don't think about it, but it serves as a courtesy to Windows PCs.  This is the same reason an AV exists for all kinds of platforms.
Well, I decided to not only build an AV – but to build the best one possible. Below are some screenshots, and as usual, I am proud to say this was 100 percent built in AIR.
Oh and did I mention?  I posted mine for 8 bucks less.  Competition is healthy, #watchouttelus.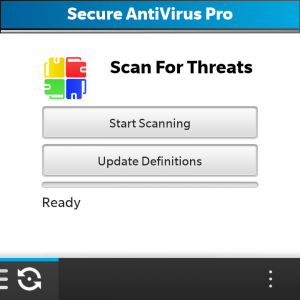 (8704)